We have put in place a complete system that can
"supply what is needed, when needed, to any place in the world, through the optimal route and at the optimal cost,"
based on the efficient production and distribution system that is unique to Japan Chain Terminal.
Aiming to be the best supplier at all times,
our employees are united in responding to customer needs in a more fine-tuned manner.
Basic Management Policy
Improve corporate efficiency through new ideas and continuous efforts to deliver the highest value to customers around the world.
Comply with laws and regulations, conduct corporate activities with respect for local culture, and contribute to social development.
Contribute to the realization of a prosperous future society through corporate activities that place the highest priority on the environment and safety.
Strive for open and fair business and achieve coexistence and co-prosperity.
Foster a corporate culture that values people and allows individuals and teamwork abilities to be drawn to their full potential, thereby contributing to the realization of individual dreams.
Company Profile
Name
JAPAN CHAIN TERMINAL CO., LTD. (JCT)
Representative
Atsuya Kurata, Representative Director
Location

Yamagata Factory

2-1 Bandai, Tendo, Yamagata 994-0001, Japan

Second Factory

642-3, Juniki, Oaza Haga, Tendo, Yamagata 994-0067, Japan

Yokohama Sales Office

Shin-Yokohama IC Building 9F 901, 3-18-9 Shin-Yokohama, Kohoku-ku, Yokohama, Kanagawa 222-0033, Japan

Establishment
August 2, 1976
Capital
JPY267.5 million (as of March 2009)
Fiscal year end
March 20, once a year
Number of employees
267 (as of July 2022)
Land and Buildings

| | | |
| --- | --- | --- |
| | Land | Buildings |
| Yamagata Factory | 32,935m2 | 14,232m2 |
| Second Factory | 3,197m2 | 1,752m2 |

Banking relationship
The Bank of Yokohama, Nagatsuta Branch
The Yamagata Bank, Tendo Branch
Business information
Design, manufacture and sale of crimping machines, pressure welding machines, applicators, blade molds (swaging molds) and plastic precision molds
Manufacture and sale of automotive connectors, metal pressed parts, and modular (insert/outsert) parts
Design, manufacture and sale of telephone modular, connector and information device modular (insert/outsert) parts and electric wire assemblies
Design, manufacture and sale of various other automatic machines
Sales offices and factories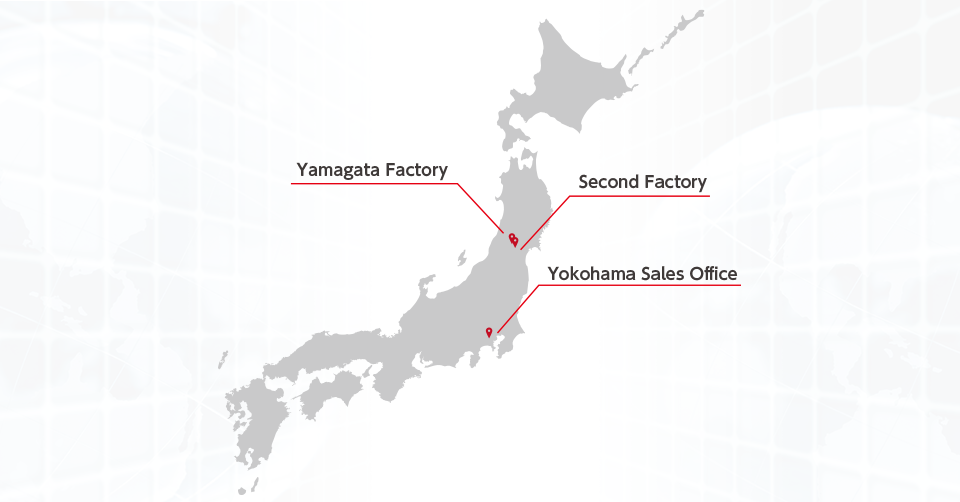 History
| | |
| --- | --- |
| August 1976 | Japan Chain Terminal Co.,Ltd established in Yokohama, Japan. (Capital: JPY 5 million) |
| July 1977 | Higashine Factory established in Higashine City, Yamagata |
| October 1984 | Tendo Factory established in Tendo City, Yamagata |
| October 1990 | Yamagata Factory established in Tendo City |
| February 1991 | Capital increased to JPY 10 million. Expanded the Tendo Factory. |
| September 1991 | Capital increased to JPY 267.5 million. |
| June 1997 | Expanded Yamagata Factory. |
| October 1997 | ISO 9001 (Quality Management System) certification obtained. |
| March 2002 | ISO 14001 (environmental management system) certification obtained. |
| December 2003 | Changed the name of the Tendo Factory to Second Factory. |
| December 2007 | Expanded C Building at Yamagata Factory. |
| April 2008 | Started operation at Vietnam Cooperation Factory (started manufacturing applicators and blade molds). |
| June 2015 | Yokohama sales office relocated |
| January 2019 | Yokohama sales office relocated |
◀ Back to previous page